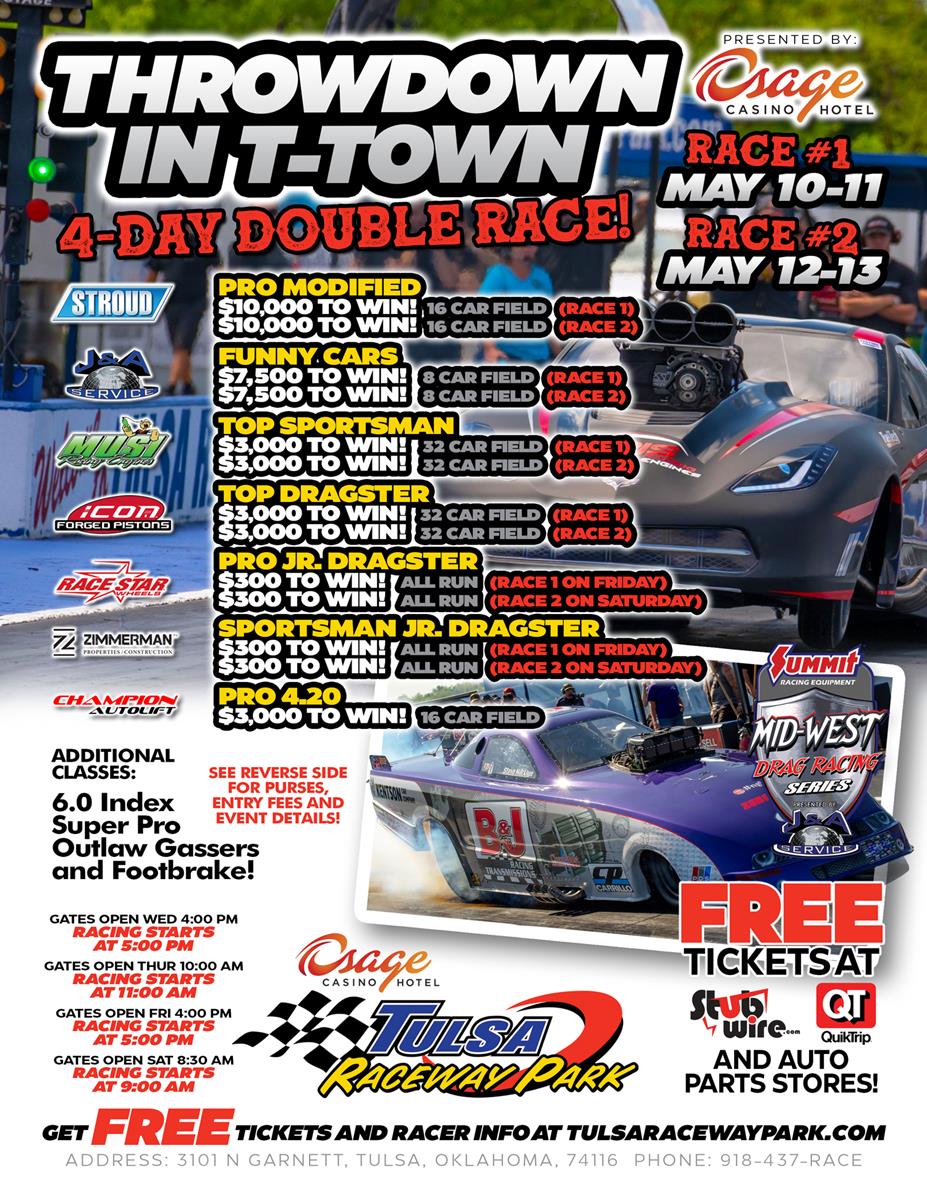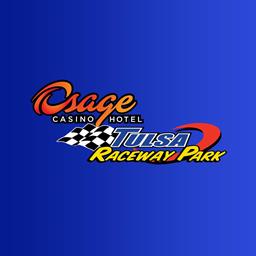 4/21/2023
Tulsa Raceway Park
---
Pro Mods, Top Alcohol Funny Cars Coming to Tulsa for Osage Casino Hotel Throwdown in T-Town
Pro Mods, Top Alcohol Funny Cars Coming to Tulsa for Osage Casino Hotel Throwdown in T-Town
TULSA, Okla. (April 2023) — The upcoming spring edition of the Throwdown in T-Town at Osage Casino Hotel Tulsa Raceway Park will contest TWO Events in a 4 day period due to the first MWDRS Race being canceled due to rain in Ferris TX . We will have something for everyone, from nationally touring Pro Mods and Funny Cars to nostalgia Gassers, local sportsman racing, and much more. It all goes down May 10-13, and FREE TICKETS for the event are available now.
"This has become a nationally recognized, can't-miss event," said Keith Haney, co-owner, Tulsa Raceway Park. "Whether you're a fan or a racer, you've gotta make plans to be a part of this event. Fans have come to expect a thrilling, diverse show at the Throwdown, and they absolutely pack the place. Racers come from all over the country because they want to put on a great show in front of a huge crowd. It's a win-win for everyone involved."
The headliner for the Throwdown in T-Town is the Summit Racing Equipment Mid-West Drag Racing Series (MWDRS) presented by J&A Service DOUBLE EVENT, with their Stroud Safety Pro Mod and J&A Service Funny Car classes leading the way.
"You can't beat Pro Mods and Funny Cars running in the 3.50-second range at well over 200 mph," said Todd Martin, co-owner, Tulsa Raceway Park. "These racers are competing for MWDRS championships, so they're going to lay it all on the line. The MWDRS season opener was postponed due to weather and now Tulsa will have TWO Shows for all you great fans to see"
Along with Pro Mod and Funny Car, MWDRS classes at the Throwdown will include Pat Musi Top Sportsman and icon Forged Pistons Top Dragster, as well as RaceStar Wheels Pro Jr. Dragster and Zimmerman Properties Sportsman Jr. Dragster.
Additional classes on the lineup include all NEW Champion Auto Lifts Pro 4.20, Outlaw Gassers, 6.0 Index, Super Pro, and Foot Brake.
There are also bound to be surprise appearances and unannounced attractions, as the Throwdown event routinely brings in big names.
"You never know who or what you're going to see at the Throwdown," Haney said. "We've had the Street Outlaws guys, we've had Top Fuel dragsters, and Scott Palmer's 'Studezilla' Top Fuel Pro Mod. We always try to bring in jet cars and wheelstanders and things like that to make the show even more exciting, especially for the kids."
Between the thrill show on the track and fun and games in the pits and on the midway, the Throwdown in T-Town has become a favorite event for kids of all ages.
"This is a family-friendly event," Martin added. "We want Mom and Dad to pile all the kids and their friends into the car, pay one price to park the car, and everyone gets in with free tickets. We have food specials, drink specials, and fantastic food from our concession stand and carnival food vendors along with totally updated restrooms on both sides of the track. We have everything you could possibly need for a fun, exciting night out at the races."
Haney, Martin and the Osage Casino Hotel Tulsa Raceway Park team roll out the red carpet for fans at the Throwdown, with prize giveaways and Super Play rides for kids, and much more on tap.
"There's something for everyone at the Throwdown, whether you're coming to the track for the first time or you've been a lifelong drag racing fan," Martin said. "We really crank up the entertainment factor for this race. There's always something exciting happening on the track, but there's also fun things to do in the pits. All of the drivers love meeting the fans and signing autographs, and the best part is every ticket includes a pit pass."
Come out and see why the Throwdown in T-Town has become one of the biggest sporting events in the Tulsa area! FREE spectator tickets for the Throwdown in T-Town are now available at TulsaRacewayPark.com. VIP starting line passes are also on sale now.
Get your Free Ticket now here https://www.stubwire.com/throwdown/1/
Article Media
Back to News